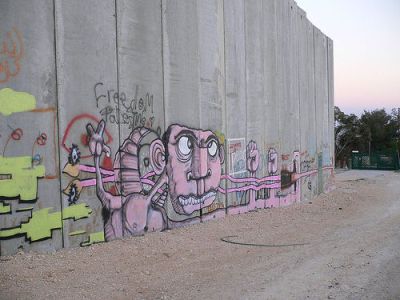 This blogging stuff is easier than you'd think, technically speaking. But every now and then I get caught out and have to 'call a friend': usually our site-manager-type person who is the real brains behind this wonderful layout we've got.
I posted before about a picture that i could only link to but couldn't put it up on the site itslef: Here it is - "easy when you know how", says the helpful
Rafah Pundits Off Air
, (recognize the photo they've used for their banner? looks cool huh?). Well it's even easier just nicking it off their site!
Cheers ears :)
... and here's the carrot face on the wall too... just to show i can now nick photos from flickr too, after guidance from those with the know-how.
Maybe at this stage I should shut up, but I thought I would use this post to thank all those involved in helping to get the site up and running smoothly - from those at original discussion about using the name 'ghetto', to shihad, who convinced us all that Tupac is a Shaheed (whatever! ;) - and to all the great support we've had to our email - from Bethlehem New Mexico (!) to Brixton, UK.
This site is a collective effort, and we are looking to expand the team again. So if you're reading this in the Bethlehem area and want to get involved, then get in touch: bethlehembloggers@gmail.com
[UPDATE]: Funnny thing about these photos is i didn't even know they're from Bethlehem. They're just next to the murals which were painted by the Mexicans who came last year... I'll put up some snaps of the paintings by them another time.
I just saw the carrot and grimacing man today by chance showing someone round the Wall. Bethlehem has the best wall art, it turns out! There's a challenge - show me some good anti wall art from elsewhere to prove me wrong...